Conference Venue
The conference venue is located at the main campus at Luleå University of Technology, LTU, in the Alfa-building. The main conference hall is A117 (LKAB-salen) and the registration will be near A111.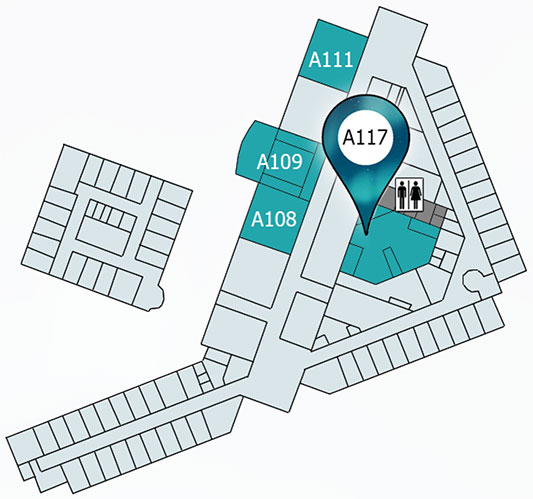 Address:
Luleå University of Technology, Alfa-huset
Universitetsområdet
977 54 Luleå, Sweden
Geolocation: 65.616817, 22.138303
Further Information:
The following files (PDF) contain additional information regarding MUM 2013:
About Luleå and LTU
The conference will take place in Luleå, Sweden, which is with a population of approximately 75,000 inhabitants an important major city in Sweden's otherwise sparsely populated north. Nevertheless, Luleå has with LTU (Luleå University of Technology, Luleå Tekniska Universitet) the most northern university of technology in Scandinavia. LTU also was Sweden's first University of Technology. In Luleå you will find the metropolitan abundance and pulse as well as the small town´s quality of life. Luleå has very warm summers (up to 30 °C) and very cold winters (with peaks down to -40 °C in February). While typically in December there already lies some snow, winter sport is not yet possible. Options for extensive winter sports are available in Abisko or Kiruna, a little north of Luleå.
Despite it's northern location, Luleå is an important center for the IT industry. Facebook recently started to build it's European data center close to LTU. In the Aurorum Science park, found directly at the university's campus, there are located around 60 business, mainly from the IT and mining sector. Kallax, Luleå's airport, is the fifth largest airport in Sweden, where the leg between Stockholm (the capital of Sweden) and Luleå is the most frequent domestic flight in Sweden.
Luleå, founded in 1621, evolved around the medieval church in Gammelstad which is today a UNESCO world heritage. Luleå is the center of Norbotten County (Norbottens Län), covering one forth of Sweden's land area. Luleå has, due to its important mining and steel industry also in Kiruna, one of Sweden's largest harbors. The archipelago outside Luleå consists of more than 1300 islands, predominately made of sand, which makes it a major recreational area for boating and sailing. Not surprisingly, Luleå has the largest amount of boats per capita in Sweden.
More details on the conference venue will be provided on time.
Getting to Luleå
The airport of Luleå (IATA Code: LLA) reaches about 1,000,000 passengers a year and offers, from Monday to Friday, about 10 flights to/from, e.g., Stockholm, with a travel time of 75 minutes, each day. Via Stockholm's Airport Arlanda (IATA Code: ARN), Luleå is virtually connected to all cities in Europe and across the world.
The free wifi at the airport is connected to Eduroam – provided that you have a login, it should work directly.
Despite it's northern location, Luleå an be reached in reasonable time from many major European cities (Munich 4.5 hours, London 5.0 hours, Berlin 5.5 hours, Paris 5.0 hours, Brussels 6.0 hours, etc.).
Getting around in Luleå
Public transit
Luleå has an excellent public transportation system:
Additional travel-related information
Important Bus stops
Car rental
Reservations in advance are strongly recommended and usually mandatory. If reservations are made on time, the rental cars can, for free, be handed over at the airport for convenience.
Taxis
Alternatively, there are many taxi companies waiting to give you a pleasant ride:
Good to know locations
Electronics Shops
DIY Shops
Groceries
Banks
Credit cards do usually work to withdraw money. Not all banks do take Maestro cards. Also, many shops will not accept Maestro cards.
Cinema
Bars and Diners in Luleå
Several bars and restaurants are located at the street 'Storgatan' (main street) in central Luleå.
Tourist information
Hotels (selection)
It is recommended to book rooms well in advance. Below is a selection of hotels in Luleå. It is recommended to book via the common booking web sites to get good rates.
Quicklinks
Important Dates
| | |
| --- | --- |
| Aug 21 | Short and Full Paper Submission Deadline (extended) |
| Oct 7 | Notification of Acceptance for Short and Full Papers |
| Oct 18 | Poster and Demo Paper Submission Deadline (extended) |
| Oct 28 | Deadline for Camera-Ready Version of Short and Full Papers |
| Nov 4 | Notification of Acceptance for Poster and Demo Papers |
| Nov 11 | Early Registration Deadline |
| Dec 2–5 | MUM 2013 Conference in Luleå, Sweden |
Sponsors




Supporters



Social Media
Follow us on Facebook or Twitter.
The official hashtag for MUM 2013 is #mum2013 and the official account is for MUM is @MUMconference.


Past Conferences
MUM 2003
Norrköping, Sweden